We're what you get when you mix

storytellers, graphic designers, artists, interior designers and fabricators.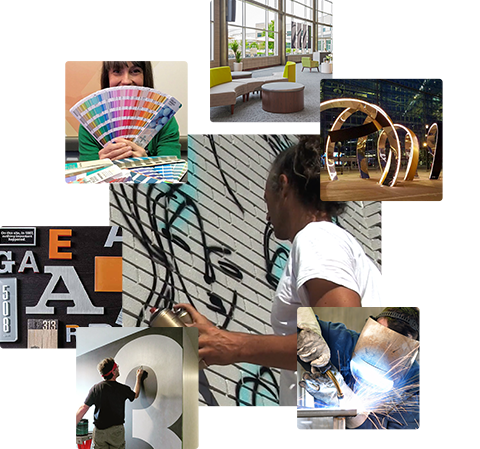 Since 2003 we've helped leaders turn their spaces into brand experiences that make a difference.
Building exteriors that get noticed
Workplaces where employees want to be
Interiors that tell stories people want to be a part of
Places that turn visitors into customers
Schools that students want to attend
Cities that people want to live in and visit
Let's maximize the return on your space.
We have a proven process for turning your building or space into a powerful brand communication. Each step builds both confidence and excitement. Here's what you can expect:
We'll experience your space and create a plan for what should be communicated where, with inspiration for what it could
look like.
We'll create renderings, gather material samples and build prototypes to help you visualize what your experience will look like.
Construction drawings and elevations showing how every detail will be produced and installed.
Production and installation of all details along with permit procurements and coordination with other trades involved with your build-out.
The act of generating, developing
and communicating new ideas.

The color of joy and creativity. Its invigorating, fresh and good for you!