Glass is being used extensively in today's modern offices. Glass seems to be the wall of choice for conference rooms, huddle rooms and private offices.  It's popularity is understandable – it's beautiful, lets in more natural light, promotes a feeling of transparency and openness. And yet those are some of the very same reason why we often get calls from from business owners and facility managers asking us to help cover up some of their glass! "I feel like I'm in a fishbowl" is a commonly expressed concern. The right response to this involves understanding the space usage, the interior design of your environment and your brand.
Street Level Work Environments
Exterior glass walls at the street level offer lots of natural light, but also expose workers to pedestrian eyes.  Sometimes rooms with exterior windows are exposed to too much sun, creating glare and temperature issues. Street level exterior windows can also be a concern at night when greater internal lighting relative to exterior ambient light allows everything to be visible to the outside world.  If you have team members working late into the evening, this can cause a security concern.  Here we applied a custom-designed window graphic to let the right amount of light in while addressing these concerns.  This solution also increased marketing exposure for the same price.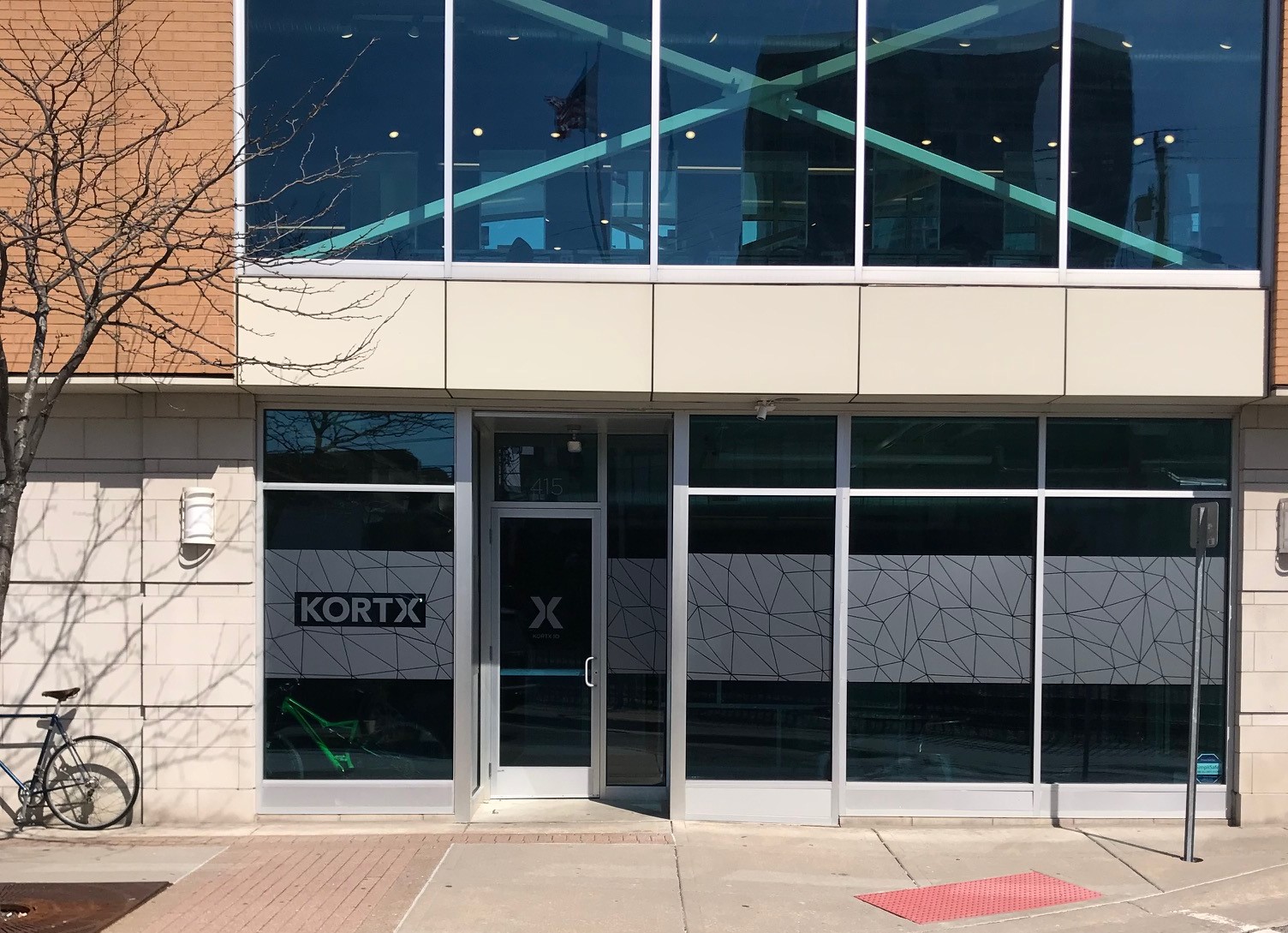 A Little Privacy, Please
With conference rooms and huddle rooms, our customers want to keep sensitive presentation content from being viewed by people walking by.  Other times they want to protect the identity of their clients or guests.  Blocking out distractions outside the meeting room is also a common request.  Determining the right level of opacity and translucency is unique to each environment.  Here a custom-designed window graphic maintained the nature theme used throughout the interior design.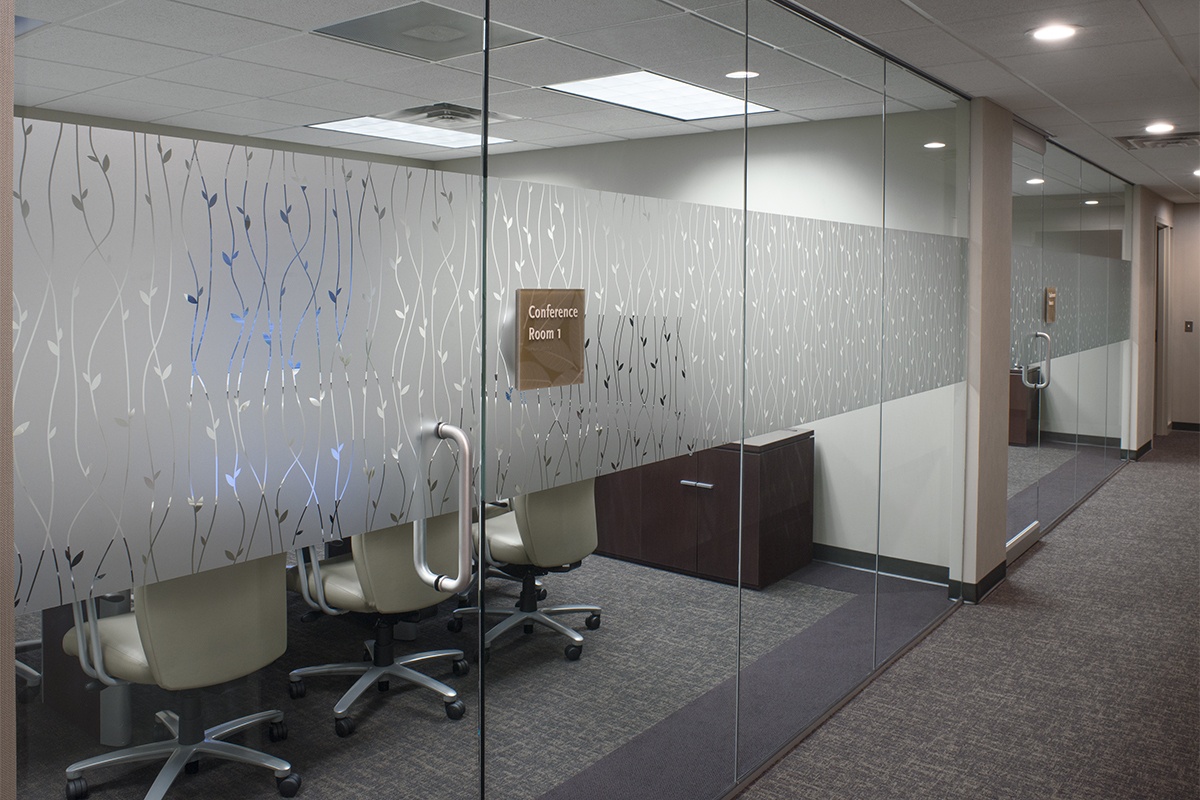 More Focused Huddles
Huddle rooms and conference rooms are often used for focused collaboration.  A common request is to use custom window graphics to help block out distractions while maintaining a level of openness that allows natural light in and reveals whether or not a huddle room is in use.  Here we accomplished these objectives with a solution designed from three layers of graphic film and in consideration of flooring patterns.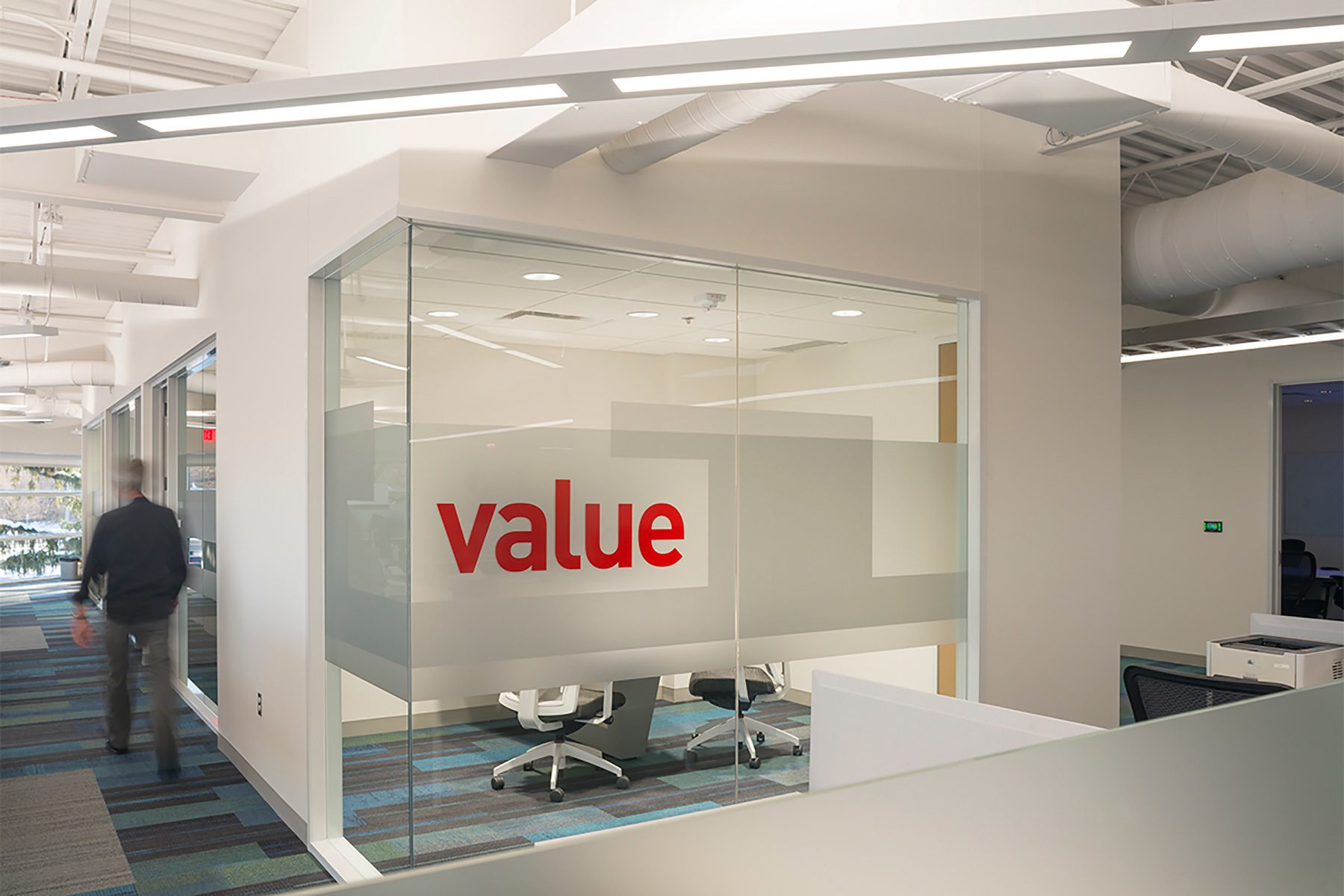 Interior Design Integration
While our customers want to increase the privacy, they don't want to just cover it all up.  One of our customer's said it best – "I don't want a shower curtain!"  Today, we have hundreds of films to get creative with. While frosted films are a popular look, translucent colors and a variety of textures are also available.  Even with frosted films, we have dozens to choose from with varying levels of opacity, coarseness and textures.  Designing the right solution to connect with the rest of your interior is important for creating the greatest impact with your space.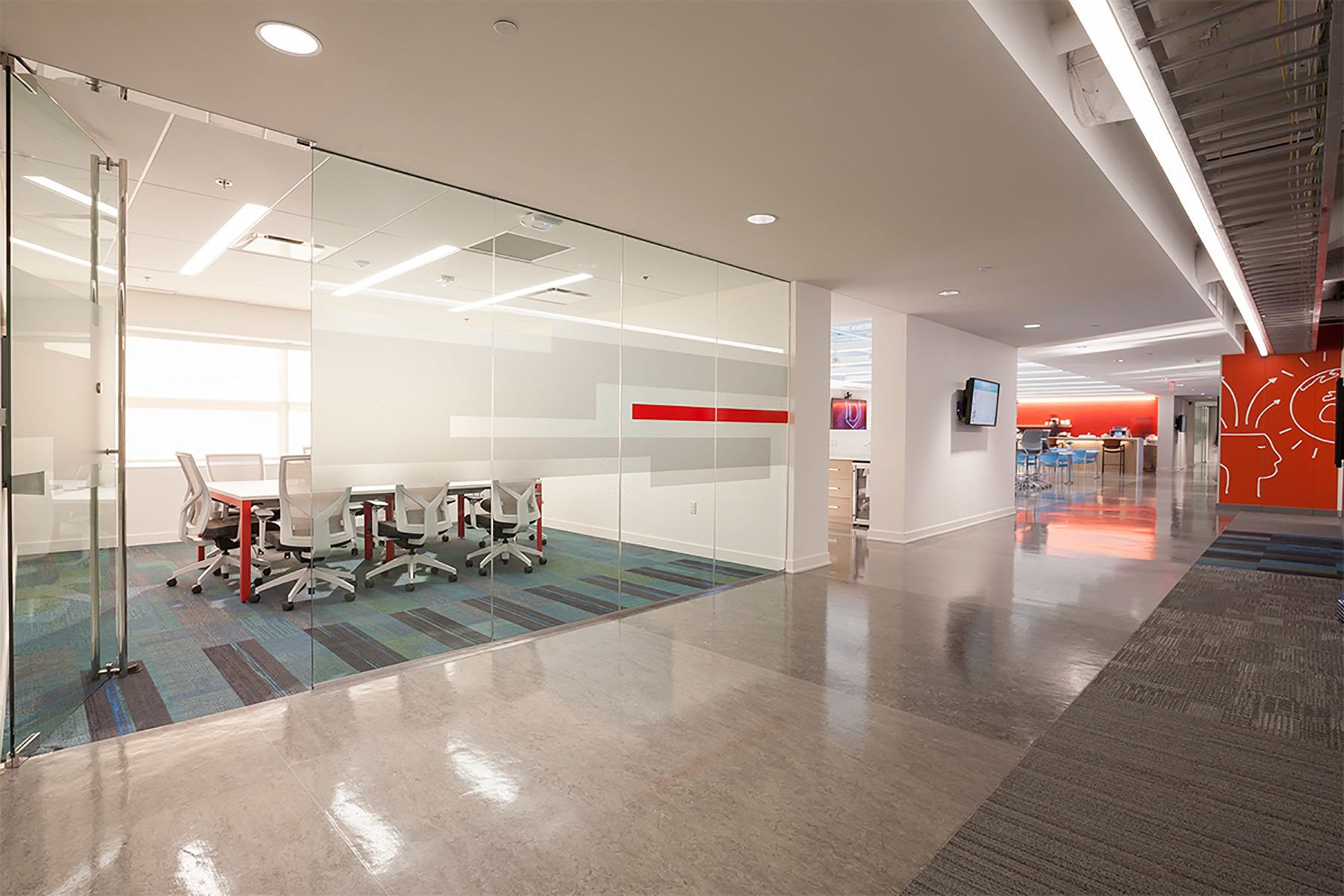 Keeping it Safe!
Finally, the same transparency that makes glass an attractive material to use, can also make it a danger for people to walk into!  Here we created a vertical translucent stripe using a brand color to enhance the interior design and keep people safe!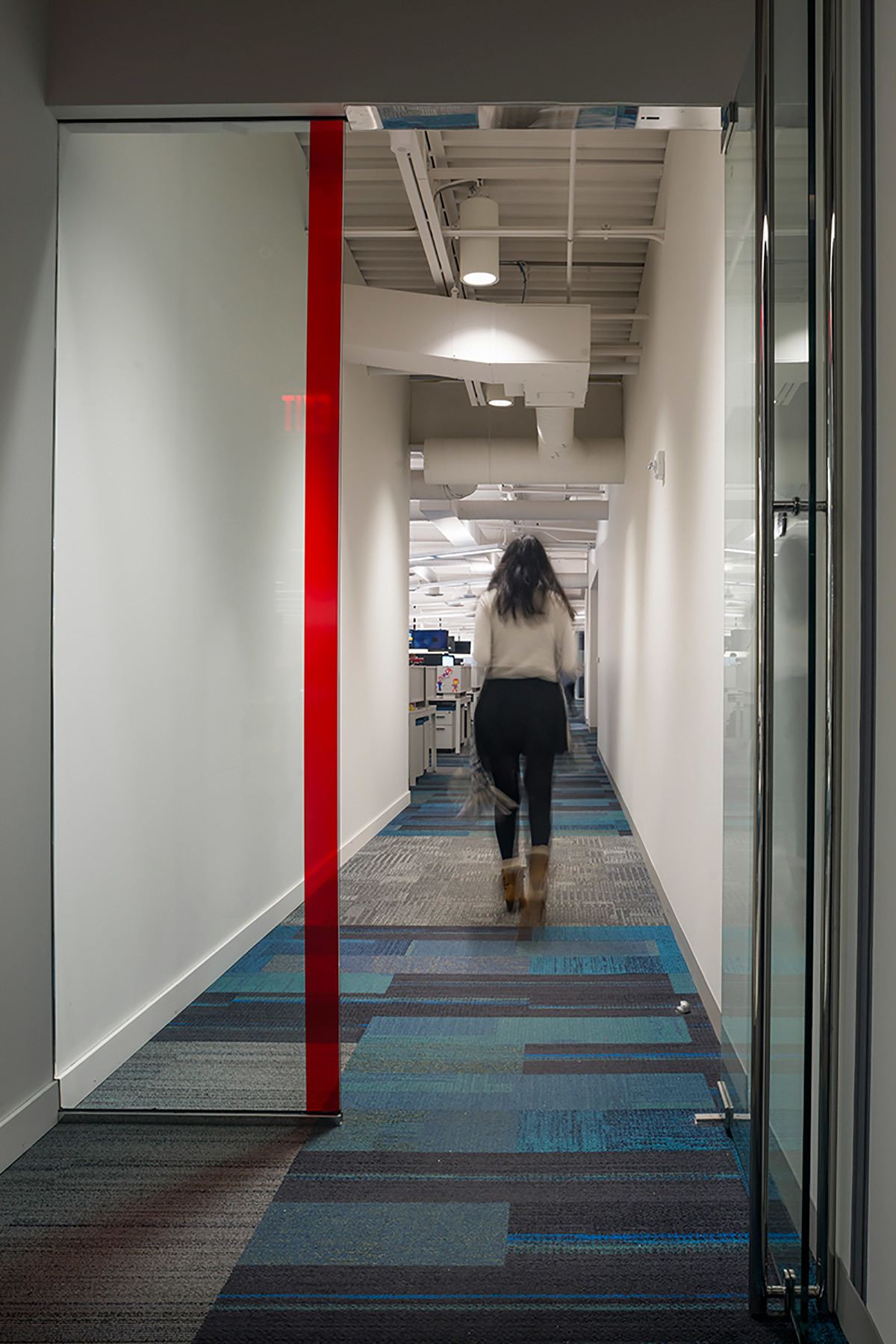 Ideation Orange is an industry leader in branding spaces using interior design, signs and environmental graphics.  If you would like more information on how your space can help you achieve your goals, contact Ideation Orange in Hazel Park, Michigan.
Photos © 2018 Gene Meadows