When patrons walk into your restaurant for the first time, what will they find? Most arrive with expectations and hope for a new and exciting experience. Anything, from the service to the lighting, and even the signage, can either bolster or hurt the perception of the brand. And for a restaurant, even more than any other type of business, brand identity is essential. Why is restaurant branding so important?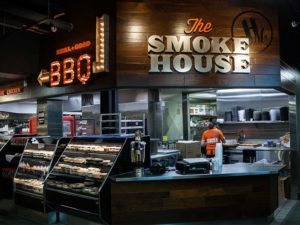 Customer Engagement and Branding
Ideally, a restaurant wants patrons. Patrons are regular customers that adopt a place as their own. They are the best sources of advertisement and help keep the restaurant profitable. The trick is finding these patrons and making sure that they keep coming back.
Restaurant branding is one way to engage these customers. Branding tells a story and once a person feels that they are part of that story, they become invested. It is no longer 'your' restaurant. Instead, it becomes theirs. They start to feel the pride of ownership and want to show off their 'new possession' to others.
But, of course, the first step is to bring them to your restaurant for the first time.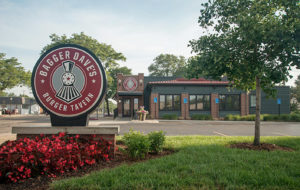 Branding and Exterior Signage
Typically, people will only try a new restaurant after several touches with the brand. They might have heard about it from a friend or seen it advertised. Perhaps they read reviews or viewed the exterior signage as they drove down the road.
Something or several somethings caught their eye and moved them from being unaware of the brand to an interested prospect. At some point, they make their first micro-yes and decide to give your restaurant a try.
Branded Space Inside the Restaurant
When that first-time visitor crosses the threshold of your restaurant, he has expectations. The first impression, that moment when he views the interior space of your eatery is when he starts evaluating his experience.
Space, architecture, decor, environmental graphics, and even wayfinding signs tell the story of your establishment. If there is harmony between elements, then it engages. If there is discord, it leaves a feeling of unease or dissatisfaction.
Ideally, the branded space inside the restaurant will meet the expectations set before the person entered. Outdoor signs should complement indoor signs and design should stay consistent throughout the building.
Creating Cohesion Between Branding and Design
Most restaurant startups employ several different teams to help build their brand identity. They may use an interior designer, an architect, and a custom sign company.  When these groups can work together to create an interrelated design, then the overall brand experience improves.
The key to creating a seamless experience for patrons or guests is collaboration.
Tips for Collaboration
Gather all the involved parties early in the project and communicate the vision for your brand. Note any particular issues that might affect other teams. For instance, will window placement make it challenging to hang outdoor restaurant signs? Does ADA compliance require signage in a place where the decorator wanted a mural?
Have regular meetings to reinforce the story behind the restaurant branding. Each group should share its discoveries and brainstorm how to incorporate these points into the brand identity.
Understand that the overall story is more important than any one element. In other words, egos may need to be checked at the door. When certain obstacles crop up, it takes everyone to find a solution.
Ideation – A Restaurant Branding Company
If you hope to convey your branding inside and outside your restaurant, Ideation can help put together a sign plan that brands the space so that it matches your architecture and design.
"Too often, companies spend a lot of money on new signs without considering the role their brand identity can play in their space." – Daren Bossenberger, Ideation Founder
Ideation Orange works with restaurants in Michigan, across the United States, and around the world. If you are interested in how environmental design can help you created branded space, contact Ideation Orange for a consultation.