Whether you need to revamp an existing business or want to establish a new one, business signage says a lot about your company. Signs identify where you are, communicate who you are, and help people comfortably navigate your business. Most people focus on the exterior sign and forget about wayfinding signs, reception signs, and even ADA compliant bathroom signs. To give you an idea of the possibilities, here are some business signage ideas that our clients have used.
Outdoor Signs to Maximize Impact
In it's simplest function, outdoor signs tell people where you are.  What's the best form of outdoor sign?  Well that depends on sight lines, viewing distances, surrounding visual noise, and city sign ordinances.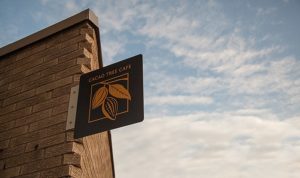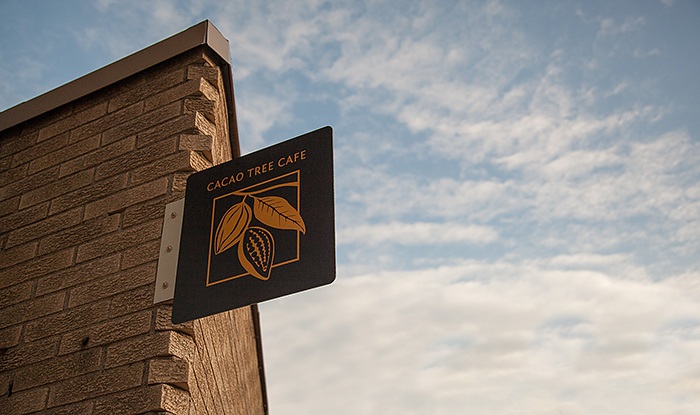 Cacao Tree, a local cafe, was presented with a problem. Because of the way their building was situated, only a small amount of their storefront faced the street. This made it difficult for people to find them. They came to us for business signage ideas and one solution we recommended was the projecting blade sign. By placing the blade signs at the corner of the buildings, we were able to draw the eyes of hungry pedestrians. To further distinguish them from the surrounding buildings, we used façade lettering and window graphics.
Reception Signs
First impressions mean a lot. A reception sign sets the tone for your client's visit and can influence their perception of your services.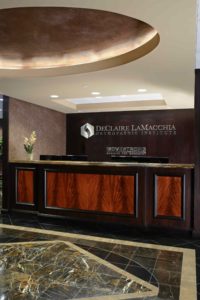 The team at DeClaire LaMacchia Orthopaedic Institute was looking for custom signage to bring their brand to their space while respecting the interior design. Working with their branding agency, we integrated their logo as a reception sign using a variety of metal finishes that complemented their interior design while creating a stunning first impression.
Wayfinding Signs
Large public buildings, like hospitals, apartment buildings, and hotels need wayfinding signs to direct people to their destinations. If your company moves large groups of people around your facility, then you need to make sure that the appropriate signage is in place. Many of those signs have ADA compliance requirements.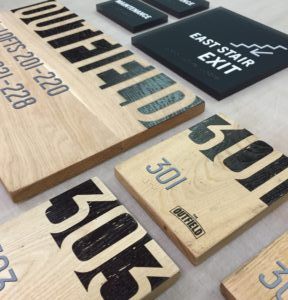 Outfield Lofts, in Lansing MI, needed both a wayfinding sign system and ADA compliant signs for their loft-style apartment building. The solution we delivered also contributed to their overall design rather than just meeting the functional requirements.
"Beyond the traditional value of making sure people know where to go when visiting and being an ADA compliant solution, our design added value to the environment by serving as an artistic element. Our goal was that the custom signage and environment would make residents proud to live there and visitors want to live there." Jon Moses, Ideation
Digital Displays and Other Specialty Signs
There are times when businesses are faced with unique situations that can be fixed with business signs. For instance, Logicalis used a large amount of glass for interior walls. They did not want to block the open feel of their space, but they did desire a bit of privacy for their meeting rooms. Special graphics helped break up the large glass walls without blocking the light. They also preserved the feeling of openness.
In addition, they had a need for signage that told the story of their business. Integrating interactive digital displays, Ideation was able to bring their story to their space using a combination of static and dynamic digital content.  Since Logicalis is a technology company, the use of the digital displays was a perfect fit.
More Business Signage Ideas
The business signs we showcased here are only a few of our designs. Each business is unique and so is your story. We like to create signage that tells that story in a unique way. Let's collaborate and put together a portfolio of business signage ideas tailored specifically for your company. Call today for more information.